[LC home] -- [home] -- last updated: 2011-06-16, 1759 UTC
HJ-61LG-MNXW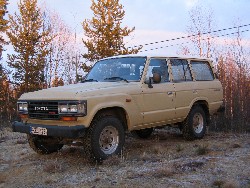 After painting, November 2004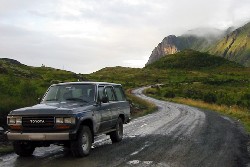 Somewhere on Lofoten Islands in Norway, August 2001.


FOR SALE: Unfortunately after 8 great years with this Land Cruiser, I have to sell it in parts. A difficult decision, but there's no alternative at the moment.
I bought my first HJ61 in December 2000 from Siilinjärvi. It was first registered in December 1988 and had some 240000 km on the clock. It was in excellent condition, but it lasted only 22 days before it was stolen in Copenhagen in the night of 6th/7th January 2001.
In April 2001 I bought the next HJ61, which was body-wise in not quite as good condition, but it was still very good. It was built in May 1988 and registered in November 1988. The first twelve years of its life it has been with the same owner, a person from Kiviapaja. In 2000 it went through two car dealerships and was then bought by a company from Nurmijärvi near Helsinki, from which I bought it less than a year later. It had true 172000 km on the counter, which was verified with the Finnish car inspection system. After some minor repairs I took it into use in May 2001, and in March 2005 it reached the milestone of π hundred thousand kilometres (314159.2 km) an so far it served me very well!
Why HJ61?
In Northern Finland the distances are large and the roads can be icy, and I regularly commute to my second home 350 km away. Moreover my other favourite hobby is nature photography (Northern Lights) for which I need to go to remote areas on snowy forest roads. Thus a 4x4 is a must. But a car for going to the forest is not good enough -- I need a car which will also bring me back home!
I chose Land Cruiser in general for the rugged design and reliability. The HJ61 I chose, because it offers a very comfortable ride on long distances as well as a very economic large Diesel engine. There's lots of space: folding down the rear bench makes the boot completely flat and 178 cm long, which is long enough to sleep there. Strangely, even today, no other large 4x4 estate car is that big (the Land Cruiser J75/J78 don't count as estate).
Milestones
May 2001: After buying the 61 and doing some immediate repairs (changing all liquids and replacing the universal joints in the drive shafts), the vehicle is taken into use ending a year without a car.
August 2001: New tyres BFG All-Terrain in 31x10.5R15. Bad mistake.
2002-01-25: Reached 200.000 km enroute from Tromsø to Sodankylä near Karesuvanto.
May 2002: Bought Riku's HJ60 together with Phil and Osmo for spare parts.
Summer 2002: Installed the Australian Dobinson springs from the HJ60.
2003-05-31: Reached 250.000 km returning from Rovaniemi to Sodankylä after taking pictures of the annular solar eclipse.
Autumn 2003: Bought Phil's winter tyres, studded BFG Trac Edge in 7.50R16. Great tyre!
Summer 2003: Front axle rebuild, a very loooong, but fun project.
Autumn 2003: Partly rebuilt the gear box due to the main shaft being worn out.
2003-12-30: New winter tyres, studded BFG Commercial T/A Traction in 235/85R16. Excellent choice.
2003-12-31: Reached e hundred thousand kilometres (271.828,1 km) just south of Rovaniemi on the way home from seven weeks abroad in the U.K. and Germany.
2004-03-01: Time for a photo session. On a beautiful day I took the HJ61 out in the snow. The new tyres performed brilliantly. Have a look at the pictures!
Spring 2004: Studs removed from the Trac Edges, which are now summer tyres.
May 2004: Roof painted in Toyota Super White 040, standard Corolla colour.
August 2004: Rest of the body painted in Toyota Beige 464. A series of photos documents this transformation.
2004-10-14: Reached 300.000 km near Raahe accompanying Osmo on the way selling his BJ75.
2005-03-20: Reached π hundred thousand kilometres (314.159,2 km) while shopping in Oulu.
2005-10-01: Frode test-drove my 61 across the 333.333 km line near and on Håkøya, west of Tromsø, Norway. Before, we finally adjusted the Koni gas shocks properly (very hard) after installing TIC's parabolic springs in summer. Good ride!
2005-10-29: Removed the third leaf from the rear springs to make the ride softer and adjusted the shocks. Still experimenting with the setup.
2006-02-11: While shopping in downtown Oulu, the 61 reached the 350.000 km mark. In nearly 5 years of ownership out of 17 years of vehicle life, I have driven half of its mileage myself.
September 2007: Finally I managed to be in Germany at the time of the "Buschtaxi Treffen", possibly Europe's largest annual gathering of Toyota 4x4s and Land Cruisers in particular. Great fun.
January 2008: The fate of all Land Cruisers finally reached mine: rust. The frame needed welding. Thanks to my good friend Philippe, this was sorted without problems. Fun project!
June 2008: Installation of a 12-V electrical subsystem: a high efficiency converter provides 12 Volt and feeds a 20 Ah motorbike battery. This, in turn, feeds all 12-V appliances including an inverter, which provides 220 V AC for charging all those gizmos one needs nowadays.
2008-04-30: Reached 400.000 kilometres in the middle of the E4 bridge over Indalsälven in Sweden on the way back from Örebro after picking up a vintage 1982 SMV 460 caravan.
2008-08-17: Completed an 8.500-km round trip with HJ61 and caravan SMV 460 of Sweden-Denmark-Germany-Netherlands-Belgium-France-UK-France-Belgium-Netherlands-Germany-Denmark-Sweden-Norway-Sweden without any issues. Oh, the near-side front H4 bulb died...
2009-12-31: The end of the road for the HJ61 at 435.000 km. The Land Cruiser did not pass the annual inspection due to non-structural body rust. Repairing would be too expensive given the value of it, and we need vehicle with modern safety features for the family, so we took the very dificult decision to take our trusty 61 off the road and sell it in parts: all parts are for sale with the only exception of the axles and some small bits. Tell me the image number and make me an offer.
[valid html], [valid css]