[home] -- last updated: 2017-05-16, 1412 UTC
Land Cruiser Stuff
On these pages I am going to collect information about Land Cruisers. I provide the pages simply for the fun of it, but I do appreciate constructive feedback.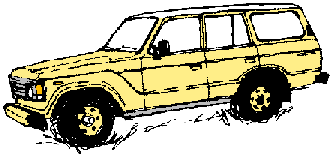 So, you're just here for the pictures? Go on then, here are pictures, including a section on Land Cruiser Spotting.
Web pages need links! So here's my page with related links.
Land Cruisers
1988 HJ-61LG-MNXW pages; All parts are for sale! Contact me with the number of the photo and make me an offer! Sold are axles and some small bits, everything else for sale.
1979 HJ-45LP-KW pages
Technical information:
If you are looking for other people in Finland, who share your interest in Land Cruisers, then you might want to join the Finnish Land Cruiser Association "Suomen Land Cruiser Klubi r.y." of which I am a member, too. If you understand at least a little bit of German, you should check out the following very nice pages: "[www.buschtaxi.de]." They have recently started an English section in their discussion boards called "Forum." Furthermore, the main Land Cruiser mailing lists and lots of valuable information can be found at "www.birfield.com."
Fun stuff
Believe me, you must see this: BBC's Top Gear tests a Toyota Hilux!
Quotes
"The kind of tintop that only gets stopped by really major obstacles, like the Grand Canyon or the Atlantic Ocean." [1]
"There's enough punch in there to pull the side off a house, even without bothering to select four-wheel-drive." [1]
"The Land Cruiser wagon is the most bulletproof four wheeler in the world." [2]
"Standard equipment is [...] a 4.2 liter, 4-in.-stroke inline six that'll idle you up a wall in fourth gear." [2]
"So if you want to throw a cocktail party with tie and tails, look elsewhere for your four wheeler. But if you want to stay alive, get a Toyota Land Cruiser station wagon." [2]
References
PD, Toyota Land Bruiser, Custom Car, November 1975.
Schmidt, Julian, Toyota Land Cruiser Station Wagon, Road Test, Four Wheeler, March 1978.
[valid html], [valid css]